Will you be prepared if you have to move your bird in a hurry? What if there is an in-home emergency? Or even a simple trip to the vet? These examples of transporting your bird can be stressful for birds that are not experienced travelers.
It's important to have your carrier or avian transporter well in advance of any trip. By doing so you can take the time to prepare and teach your bird to get used to the new travel cage rather than waiting until the last minute and trying to wrestle the bird into an unfamiliar object.
When your bird needs to spend time apart from the safety and comfort of their regular home, ensure they feel as secure and relaxed as possible with one of our quality bird travel carriers. Designed for short trips such as overnight vet visits, weekend getaways, moves or emergency evacuations, a travel bird cage is essential for any bird owner.
I am VERY excited to showcase our new Voyager Soft-Sided Travel Carrier! This carrier is exceptionally stylish and available in 2 sizes and 3 colors (lime, black, and tan). The Hawaiian flowers will definitely make you the envy of every bird owner.
Your bird will feel safe on the perch and cozy with the soft sides. The carrier comes with an optional carrying strap. Click here to view more Travel Bird Cages.
How do you transport your bird? Let me know!
Mahalo,
Paco the Parrot
How do you transport your bird? Let me know!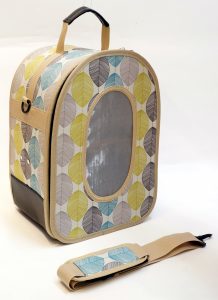 1,637 total views, 1 views today