While flight cages are great for very small birds like Parakeets and Cockatiels, you might be thinking of something a little sturdier for your larger small parrot. You'll want a beautiful bird cage with heavy-gauge bars, a durable powder coat finish, and plenty of room to play. Don't bother digging around – the solution is the Lihue Landing Dometop bird cage! Dometop bird cages have a visually attractive arched roof with a roomy airspace; this openness makes your bird feel less confined, and more comfortable inside their home!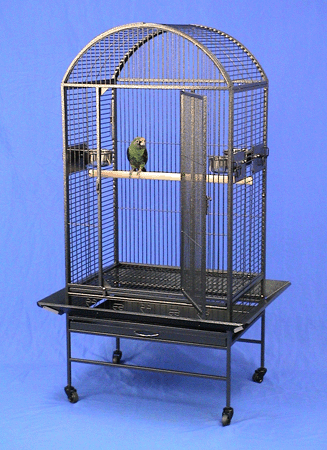 If you're the proud owner of a…
Sun Conure
Senegal, Meyer's, Red-bellied, Brown-headed Parrot
Lory, Lorikeet
Pionus Parrot
small Amazon Parrot
Timneh African Grey
…then the Lihue Landing Dometop bird cage is perfect for you and your feathered friend! With 5/8 inch bar spacing and a size of 28″ wide by 20″ deep by 60″ high, your small parrot will be free to stretch, and safe at the same time. Three feeder doors will make changing food and water a breeze, and the slide-out grate and tray make cleaning up even easier!
Larger birds need plenty of room to play – so make sure you're prepared with both shreddable, wooden, and foraging toys for your little Einstein. Along with Perch, Toy, and Starter kits, the Lihue Landing has a custom Cozzzy Bird cage cover available, designed specifically to fit your bird's cage like a glove. At Bird Cages 4 Less, we try to make bringing home a new feathered friend – or upgrading your bird's living arrangements – as quick and simple as possible!
What is your parrot's favorite bird cage? Let us know in the comments below, and don't forget to "Like" us on Facebook!
1,968 total views, 1 views today
The Lihue Landing Dometop: Perfect for Small Parrots!