Although I am the proud parront of two large parrots, like many other people across the world, the vast majority of bird owners have small parrots such as the Budgie or Cockatiel. There are tons of options out there for both sizes of birds – we at Bird Cages 4 Less have so many great small bird cages, and high-quality large bird cages, as well! But what if you're the parront of an "in-betweener" parrot?
What would you call an "in-betweener?" These would be parrots that have characteristics of both sizes of birds; they have stronger beaks than a cockatiel that make large toys a necessity, but their heads are small enough to pop through the bar spacing of large bird cages. Quakers, Senegals, Sun Conures, Timneh African Greys, small Cockatoo, small Amazon Parrots, and all the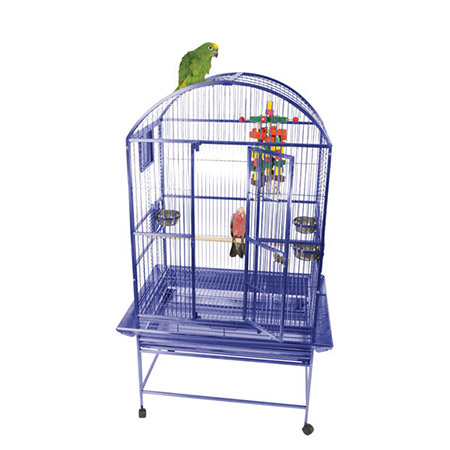 similarly sized parrots are species that I would consider somewhere "in between" small and large, and in need of smaller bar spacing coupled with a larger cage size. While this may seem impossible, we have a near perfect solution – the Koloa Kavern Dometop or Playtop bird cage!
The Koloa Kavern is available in two top styles to suit any parrot in your household. The Dometop is preferable for parrots that need plenty of play spacing INSIDE their cage, perhaps while you're out at work. The Playtop is preferable for the opposite – a bird who needs a comfy spot to play while OUTSIDE their cage. Regardless of which top you choose, you'll still get all of these benefits:
5/8 inch bar spacing suitable for so many species of parrots
32 inches wide x 23 inches deep x 66 inches high
Bird-proof locks
Four beautiful powder coat colors
Three feeder doors
Slide-out grate and tray
Easy-rolling casters
This bird cage is a great choice for many functional reasons, but also aesthetically; the sleek lines don't make it seem like a utility item in your home and rather a homey space for your parrot to call their own. What is your favorite part of the Koloa Kavern bird cage? Let us know in the comments below!
533 total views, 1 views today
A Cage to Suit 100's of Parrots: the Koloa Kavern Cage