Cockatiels are special little birds that fill homes all across the world with twittering songs and small, sweet voices. Unfortunately, the average cockatiel likely lives in a cage much too small for his glorious tail, wings, and crests; a properly sized cage allows your tiny parrot to exercise, stay healthy, and keep his feathers in shape!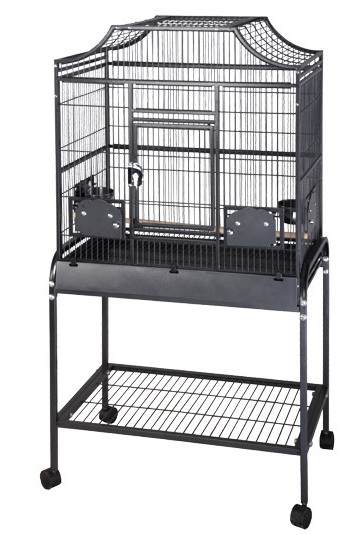 It is often difficult to find an appropriately large cage that is suitable for your little singing dynamo. Large bird cages tend to have too-large bar spacing, too-thick bars, and too many ways for your 'tiel to hurt himself. Thankfully, Bird Cages 4 Less carries the Anahola Abode Flight Cage, which is not only SAFE, but functional, attractive, and LOVED by many birds already! With the Anahola, you don't have to sacrifice all of the great features that come standard with a large bird cage for the sake of keeping your little bird safe; the Anahola was designed to be the perfect combination of top-of-the-line features and small bird safety.
If you've looked at flight cages before, you've probably noticed that they tend to be inexpensive, have basic features, and are very roomy for small parrots, such as a cockatiel. This is why so many parronts love flight cages – but not all are created equal! The Anahola Abode Flight Cage is loaded with features that put it on a tier above your average flight cage, including:
1/2 inch bar spacing
Bird-proof locks
FOUR swing-out feeder doors
Slide-out grate and tray
Large front-access door
Easy-rolling casters
Storage shelf for birdie accessories
Your average flight cage does not have feeder doors, so you have to reach inside the cage to change food and water. Not only is this more time consuming, you also have to play the fun game of "Keep the Tiel in the Cage" as you attempt to snatch the food and water cups without spilling! And, with the Anahola, you have cups for food, water, and two extras for whatever your birdie desires – maybe treats or Chop!
The Anahola is also suitable for any parrot that does well in 1/2 inch bar spacing and appreciates an awesome bird cage, such as parakeets and budgies, Green Cheek conures, Lineolated parakeets, Parrotlets, and similarly sized parrots!
What is your cockatiel's favorite bird cage? Share your pictures with us in the comments below! Don't forget to connect with us on Facebook, and sign up for our bi-weekly e-mail blasts.
1,951 total views, 3 views today
Your Cockatiel Will Love This Cage – the Anahola Abode!