As springtime goes into full swing, and we all have new bird cages to decorate, let's shower our birds with new perches in April! We are not just bird cages at Bird Cages 4 Less. We have a great selection of perches in many different styles, and in every size you can imagine. So, invite your companion parrot to sit on your shoulder – his favorite perch – and learn something new about the perches your feathered friend should have!
Not every bird's cage is easily maneuvered through the home to where ever the family is roosting. While birds love to perch on their person, not every parront loves the poop down their shirt, or the back of the sofa. Rather than leaving your bird on or in their cage to reduce clean-up, you can provide a playstand or portable perch to your parrot! Ranging from simple to extravagant, portable perches are the best way to include your bird in the family while providing them their own space with toys, food, and an appropriate spot to poop! Let's take a look at a few table top models of portable perches.
Polly's Portable Stand with Food Cup is the perfect example of a simple portable perch. Placed on top of an paper towels, newspaper, or another easy-to-clean surface, this stand will make your bird feel included anywhere in your home! Polly's Portable Stand can be placed on stable end table, coffee table, or computer desk and includes a treat or water cup to keep your parrot comfortable. Available in three sizes, this portable perch suits cockatiels to cockatoos!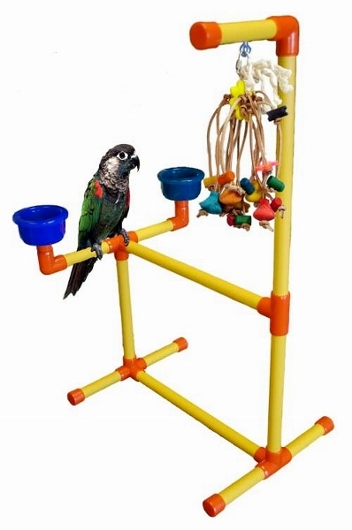 If you're looking for something a little larger, we have two options that look very similar, but two different functions. The original Table Perch has two cups for food and water, and comes in two sizes to suit nearly any bird. The Long Laster Table Perch is designed to be used for a longer period of time, as it includes two cups and a toy hook; it comes it three sizes to suit any bird in your household. While both portable perches are great options, you'll
want to consider how you'll be using the perch in order to make the best decision. If your bird is simply joining you in the living room while you read a book or watch tv, and you won't be playing one-on-one with your parrot, the Long Laster is a better choice as your feathered friend can entertain himself with a hanging toy. The Long Laster is also the better option if multiple birds will be sharing it at the same time, as there is more room to spread out. If you plan on using the portable perch as a spot to teach your bird new tricks or commands, you'll be better off skipping the distraction of the hanging toy and go with the Original Table Perch instead. Some parrots may find it difficult to grip the food-grade PVC surface, and that is easily remedied by wrapping the perching surface with veterinary bandage wrap.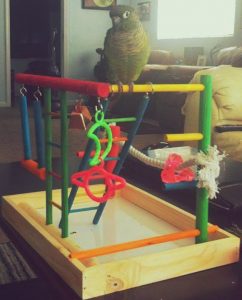 For extra-small parrots, we have a few table top perches made just for them! One such portable perch is the Parakeet Park Tabletop Playground. With an included ladder and swing, your tiny bird will have plenty of room to perch and play. The floor of the playground is laminate for easy clean-up, and all paint used is food-grade and non-toxic. Zeek the Green-cheek Conure shows us that the Parakeet Park Playground isn't just for keets – it can be fun for him, too! Parront Bethany S. has added additional hanging toys for Zeek to play with when he's entertaining himself. This simple playground is easily accessorized with foot toys, a treat dish, and can even be used in conjunction with other similar stands to create an engaging play area.
Does your parrot enjoy a portable perch or playstand? We'd love to see your pictures in the comment section below! We're wrapping up the April Perch Series this weekend with a few more posts on portable playstands, free-standing play areas, and hanging play areas, so don't forget to check back with us here and browse our full selection of perches and playstands on our full site.
522 total views, 1 views today
The April Perch Series: Portable Playstands and Perches