Have you ever seen a unique bird-related item that you just aren't sure how to use? Don't worry – Bird Cages 4 Less has your back. Welcome to our "How To" posts, a recurring series of articles dedicating to helping you be the best parront on the block.
Today, let's talk about hanging play gyms. There are many benefits to expanding your bird's play space to include your ceiling! For one, there isn't as much clutter on the floor, and you'll be able to reclaim some floor space for yourself. If your bird is fully flighted and a good flyer, using air space for exercise will keep them fit and exhausted – they'll be less likely to scream and pluck their feathers. You can attach climbing toys from the top of your bird cage to the ceiling and make your own customizable playtop; the possibilities are endless. While you must be mindful of where your bird will likely poop and drop toys or food, a designated parrot play area just isn't complete with a few hanging toys or play gyms. Let's take a look at a few options that we carry at Bird Cages 4 Less.
For a perc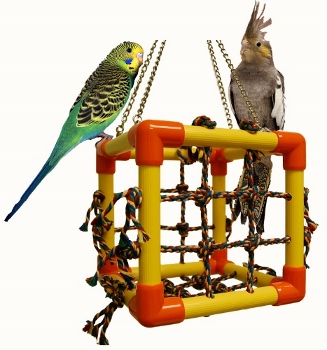 h that will be easy to hang, and easy to clean, you'll want to consider the Cube Perch. Available in multiple sizes to suit any bird in your flock, the Cube Perch is easily attached to your ceiling with a few hooks and included chain. Your bird will have a few perching points to choose from – and for a particularly nimble smaller parrot, you could hang the cube by just a single chain and allow i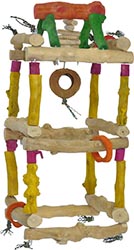 t to spin freely. This perch can be accessorized with more hanging toys to make it a great addition to your bird's play space!
For a sturdier perch with two options, take a look at our Java Towers. Available in three sizes each, in a Single or Double, the Java Tower can stand up to the chewing power of nearly any beak. Since it is a heavier piece, you'll want to make sure it is securely attached to the ceiling before allowing your bird to perch and play. It would be very easy to add more chewing toys to the Java Tower with plastic baby links, or sisal rope. Whether you go with the Double or Single, these are great to share with multiple birds with several perching areas!
Did you follow our blog through the April Perch Series? During the Series, we looked at cotton bungee perches. Not only are they great inside your bird cage, they make a fantastic and playful addition to a hanging ceiling play area, too. You can check out our post about Cotton Rope Perches and Boings for more info on bungee and boing perches!
Need some inspiration? Laura H. lives in Holland with her many adopted, rehomed, and rescued parrots. She has a big heart – and an even bigger bird room. To make sure all of the parrots get the exercise they need to stay happy and healthy, Laura has created an intricate and expansive hanging bird play area. By using many different types of swings, perches, bridges, and toys, all of the birds are able to play safely and peacefully – and all of them are accommodated much more easily compared to using only floor playstands. While not every home has to consider so many birds when building their hanging play spaces, you can pull ideas from Laura's organized chaos!
In the photo above, you can see just about a hundred perches points for all of the parrots in Laura's flock. It's less likely that a disagreement will occur between the birds as they can keep themselves occupied, and there is a lot of room to move away. With rope bridges, swings, a wooden bridge, and hanging toys everywhere – it's a task just to spot the birdies! Vinny, Lorry, Missy, Lora, and Cody the Amazon parrots will be busy in this play area for hours.
In the next photo at left, you can see that Laura has used hooks in the ceiling as anchors, and quick links to attach toys to the hooks. With free-hanging swings and rope bridges, there is always a path to a new toy. Lora, Vinny, Missy, and Cody the Amazons join Dexter the Alexandrian parakeet to enjoy and explore this area of the bird room.
Have any ideas on how to improve your parrot's play space yet? Don't worry – we have plenty more ideas to share with you. Perhaps you have one others have never considered – so share it in the comments below! Keep checking in with us at Bird Cages 4 Less for new ways to make your birds screech in delight.
599 total views, 1 views today
How To: Use Hanging Play Gyms