As springtime goes into full swing, and we all have new bird cages to decorate, let's shower our birds with new perches in April! We are not just bird cages at Bird Cages 4 Less. We have a great selection of perches in many different styles, and in every size you can imagine. So, invite your companion parrot to sit on your shoulder – his favorite perch – and learn something new about the perches your feathered friend should have!
For a moment, think of your favorite place to sleep. For me, it is a soft, cozy bed where I can sink in and forget about all of the bird poop and food bits I'll need to clean out of the carpet tomorrow. I usually like to have one warm quilt, and one fleece blanket and a very flat pillow. I roll over on my tummy, and I'm out like a light! Unfortunately for our companion parrots, they don't have too many options when it comes to bedtime – but maybe they wouldn't want them, anyway. So, let's think about our birds. What would they appreciate sleeping on?
If your parrots are anything like mine, they love to take an afternoon nap. And, if they're anything like me, they like to be comfy, cozy, and relaxed while they do it! That's why we carry cotton rope perches in a few different styles. Cotton rope, and si
sal rope, perches and swings provide a softer surface to stand on and is often preferred by parrots when it comes to snoozing. Placing one high in the cage in a spot that gets less light is a great way to create a "bedroom" for your feathered friend. Relieving the pressure after a long day of playing and perching on hardwood or sand perches is an important step to ensuring your bird's feet are at his healthiest. But don't think rope perches are just for sleep – there are plenty of styles that are sure to get your perch-potato birds moving and shaking, too!
How many birds would it take to convince you that every-birdie needs a rope perch? Fellow parronts all over the
world provide their precious parrots with rope perches every day because birds just love them! No matter the style, using a cotton or sisal rope perch in your bird's cage or playstand is sure-fire way to brighten his day.
Is your parrot overweight or under-active? Try hanging a boing, or a bungee perch right in the center of your bird cage and removing the center perch which spans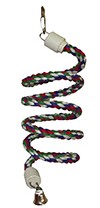 from side to side. This will force your parrot to exercise! Having multiple bolt-on perches throughout your bird cage will have your chubby parrot stretching, climbing, and burning calories, rather than just shuffling along a perch to get from place to place. These unique perches offer a place for your parrot to perch and play. You have a few different options when it comes to placing this perch inside your bird's cage. One option is to hang it from the ceiling and allow it to spin freely as your bird climbs on and off – some birds may really enjoy this while others may be too nervous to try. For your nervous nelly birds, you can use a second quick link to attach it to the cage grate and make it stable, but still bouncy.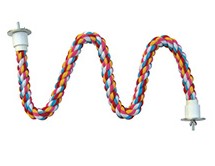 For a sleeping perch, take a look at the Zig Zag bird perch and the Comfy bird perch. Both come in long lengths to span the cage, or can be bent and twisted two create a unique walkway for your parrot! The comfortable cotton rope wound around an internal wire makes this perch infinitely customizable. These perches are also easy to clean with a sponge or cloth, and should be monitored and maintained for loose strings as needed – a few snips with scissors should fix any strings before they become a hazard!
We at Bird Cages 4 Less know that your parrot is part of your family – and likely has a stake in the family budget. Great bird perches don't have to break the bank! That's why we have Paco's Playhouse toys and perches. They are also included in our cage accessory bundles – did you know we had those listed on every bird cage?
One great option is Paco's Whirl & Twirl Double Ring Ball swing! Your active parrot will have hours of fun swinging and climbing on this toy. This swing is large and conducive to lots of wing flapping, so you'll want to make sure it's hung in an area with a lot of room – such as on a playstand, or hung from the ceiling on a chain! This swing is available in two sizes to suit small to medium-large sized birds.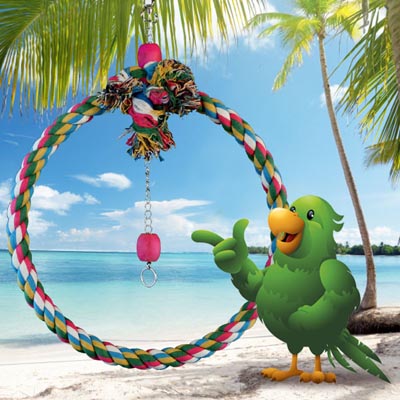 Another rope swing that is sure to catch your parrot's eye is Paco's Play & Roost Ring swing. Available in sizes to suit conures to macaws, this simple swinging perch will help exercise your bird's feet, leg, and wing muscles to help burn energy and keep a toned physique! This is another perch you'll want to make sure has plenty of room to sway and spin without your bird being at risk of hitting himself against cage bars, or walls.
Some birds will not take to swings right away if they've never had the pleasure of owning one before. Give your birds time to adjust to their new perches before giving up on the untouched swing.
Does your companion parrot enjoy rope perches and swings? Send us a pic in the comments! You can find all of our perch options on our full site on the Perches tab – and don't forget to check back in as we continue to talk about all kinds of perches this month.
622 total views, 1 views today
The April Perch Series: Cotton and Sisal Rope Perches and Boings