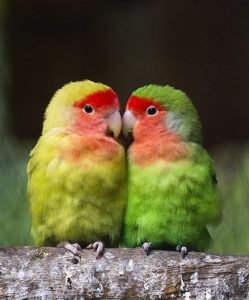 Valentine's Day is in one month. Do you have a friend that loves birds and might want a lovebird or perhaps a couple of lovebirds? If so, understanding how to choose a cage that is appropriate for your lovebird or birds is essential.
Lovebirds are among the most fun, active, and playful parrots you can find. They are cuddly little creatures who form deep bonds with their owners.
You deserve a beautiful cage in your home as much as your pet bird deserves a functional environment, so our cages are designed with elegance and class.
These pint-size bundles of joy have the full personality of a parrot, but are easier to house because of their size. Lovebirds are very active, and known as the mini-clowns of the parrot world!
Small or medium bird cages are best for Lovebirds, with bar spacing 1/2″ to no more than 5/8". Bird Cages 4 Less carries a wide variety of bird cage styles, shapes and colors ideal for Lovebirds. You'll find play tops, dome tops, convertible tops, square, rectangle and round bird cages all right here at Bird Cages 4 Less!
Don't forget the bird toys – Lovebirds love to play!
Shop for that decorative bird cage for your Lovebird at Bird Cages 4 Less!
Here are some of our most popular cages for Lovebirds: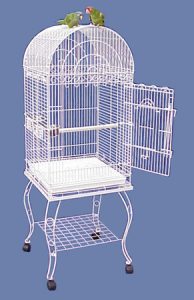 Hilo Harbor Dometop Small Bird Cage
Kokee Kondo Double Playtop Bird Cage
453 total views, 1 views today