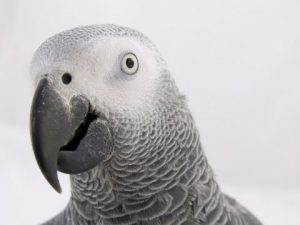 African Greys are beautiful and smart birds. Buying a cage for your bird should be done with thought and the knowledge that your bird will grow, and be with you for up to 80 years.
When you choose to purchase an African Gray as a house pet, the cages you choose for that bird is just as important as any other aspect of care. This breed, although smaller than most parrots, needs plenty of space to move around in. Even if they are only in the cage overnight or when you are out of the home, they need freedom of mobility, and they need plenty of room to move and play around the cages that you buy for them.
When it comes to the size, the bigger the cage you can find, the better. A size of at least 2 feet wide and 3 feet long is advisable; but, if you have space, and can afford it, a larger size would be a great option for you to choose when trying to find the right cage for the parrot.
When you choose the cages to place the parrot in, you have to find the ideal spot in the home as well. You want to place the cage in a location where there is interaction with people, but not too much traffic in the home. You also want to avoid places where drafts occur or too much sunlight comes into the home, to avoid overheating. The parrot needs to be seen and heard, but too much traffic is not the best option either.
Probably the most important thing to consider when selecting an African Grey cage is the total interior space. Although Greys seem small compared to large parrots, they are very social birds and need a large amount of space inside their bird cage to move around and stay active.
Most experts recommend getting as large a bird cage as you can afford. As a guideline, we recommend customer consider African Grey cages that are 36" wide, 24" deep, and 40" high. However, this is not possible a minimum cage size for an African Grey cage is 34" wide, 24" deep, and 36" tall.
Also, important to the African Grey are bird toys and activities. Be sure you select a bird cage that has sufficient room to add many different toys, activities, and perches. Because they like to socialize with their owners you may want to consider a bird cage that provides multiple places outside the cage to perch.
Making sure you purchase toys appropriate for your African Grey is critical. You want the parrot to stay busy, so having a few toys in the cage, and rotating them with other toys every so often, is something to consider so your parrot does not get bored. You have to remember that when you are not home, all they have are these toys, and other items in the cages, so you want to find things that will keep them busy, and you want to choose a cage that gives them room for freedom of mobility to fly around in as well.
Some features to consider:
-All parrots are creative and will find ways to open doors and get out of their cage. Look for entry doors and feeder doors that have locking mechanisms to prevent an accidental escape.
-Slide out trays and grids are easier to clean than solid cage floors.
-Some cages come equipped with seed guards around the base of the cage which helps keep the mess inside of the cage.
-Play top cages provide a great place for parrots to hang out
**adapted from http://www.african-grey-parrot.net**
Here are some of our favorite African Grey bird cages—check these out!
Lani Kai Lodge Playtop Large Bird Cage
Maui Mansion Convertible Top- Large Bird Cage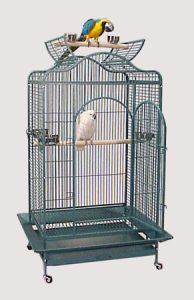 Honolulu Hideaway Corner Bird Cage with Playtop
518 total views, 1 views today
Buying a Cage for Your African Grey