Are you new to sharing your home with exotic companion birds? Don't worry – Bird Cages 4 Less has your back. Welcome to our "How To" posts, a recurring series of articles dedicating to helping you be the best parront on the block.
If you were following the blog through the April Perch Series, it's likely that you know quite a bit about the bird perches that Bird Cages 4 Less offers. Perhaps you even ordered a few, and now you're wondering where to attach each perch inside the cage. Decorating bird cages is an art – and you don't necessarily need to be artistic to succeed! The best thing to do is always keep your companion parrot in mind – and that will mean a different thing to every parront! Keep in mind that all birds should have a minimum of three different kinds of perches in the bird cage at all times to ensure optimal foot health.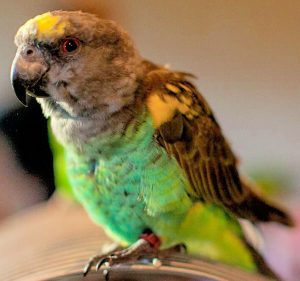 To best determine how to place the perches in your bird cage, you'll have to consider your bird size to cage size ratio. For example, while a Anahola Abode Flight Bird Cage is appropriate for parrots as small as the Pacific Parrotlet (pictured left) which stands 3 to 5 inches tall. It is also perfect for the Meyer's Parrot (pictured right) which stands 8 to 9 inches tall. When compared, they are obviously very different in size, and will need different accommodations to make the most of their respective bird cages. The parrotlet would do best with more than three perches in his cage; five to eight perches may be a better number for him. The Meyer's Parrot, however, may be fine with just three perches – but it's likely that five would be a better number. Keeping in mind that all parrots are unique and that a different number of perches will be perfect for each bird, let's go over a few questions that all bird owners should answer while putting perches in their bird cages.
Can your bird easily…
reach his food and water?

adding bolt-on perches is an easy solution so smaller birds are able to comfortably eat and drink
grooming perches will file your bird's nails several times per day when he visits his food or water
larger parrots should be able to stretch from the central dowel perch to the dishes, making bolt-on perches unnecessary

reach his toys?
sleep in an elevated location?

most birds will naturally perfer to sleep in a high perch inside their bird cage
cotton perches and heated perches are best for this church
for smaller birds, bolt the perch in the cage with an extra 3 inches between their head and the ceiling
for larger birds, leave an extra 5 inches

take a break while climbing from front to back of the cage?

using perches of various sizes and materials will make the adventure exciting
smaller birds may need 3 to 5 perches across the back wall of a cage alone to make navigation easier
larger birds may only need 1 or 2 perches in the same fashion
an alternative to a simple straight perch could be a swing or multi-branch perch

sit without his tail touching the cage bars?

to keep tails in their best condition, birds of all sizes should be able to sit without rubbing the bars
bolt the perch an extra 2 to 3 inches away from the back wall for maximum comfort
In summary, you'll want one or two perches to access food and water, one perch for sleeping, and one perch located near a toy. This would leave most birds with three or four perches total in the cage, when the bird is sized perfectly to his cage. This number increases when your bird has a larger cage than would usually be recommended. While crowding a bird's cage with too many perches will leave them no room to stretch their wings and tails, finding a perfect balance can be a matter of trial and error. Starting off with three perches in the cage is a good foundation for a bird whose size is optimal for the cage he lives in. For a bird who has a much larger cage, 5 to 8 perches may be necessary. Swings, shelves, and other cage accessories that your bird regularly perches upon can be counted as extras, above the three perch minimum. Remember to provide many different types of perches, as was described in the April Perch Series: the Importance of Variety.
Check back in with us soon for more tips on keeping your birds healthy and happy! Meanwhile, you can check out BirdCages4Less.com for everything you need to be the best parront on the block.
9,378 total views, 3 views today
How To: Place Perches in a Bird Cage