Are your birds ready to welcome a new season with a brand new living arrangement? Let's all MARCH into springtime and talk about cages! Shopping for a new bird cage doesn't have to be a nightmare. In fact, it can be fun with the right retailer. Bird Cages 4 Less invites you to grab your morning mug, and cozy up with your companion parrot to read our March Cage Series. Throughout the month of March, join us tonexplore the many options we have to offer for your special feathered friend.
We're finally at the point in the March Cage Series when I get to talk about my favorite style of bird cage – the space saver. Perhaps you're an owner like me who lives in a small apartment with multiple parrots; You have to save space for yourself, but you refuse to skimp on accommodations for your parrots. With a space saver bird cage, your parrot will always have a King Size home, even in a Twin Size apartment.
I personally have a Congo African Grey, named Symon, and a Double Yellow Amazon, named Murphy, and a 470 square foot apartment. Both of my boys are older parrots at 18 years and 20 years old, respectively, so they tend to nap while I'm away at work. And, luckily for them, they are always allowed out of their cages while I am home, usually at least 8 hours a day. So, a jumbo bird cage has never been necessary for my family – but that doesn't mean they're sleeping in a finch cage, either. My boys are in a double stacked cage which gives them both room to completely stretch and flap their wings, three perches, five toys, two regular food dishes, and two extra treat cups. Plus, they have a bowl with foot toys on the bottom grate. And – the best part – it only takes up 6 square feet!
So, are you excited to take a look at our stacked bird cages? Let's jump right in with the Hala Hotel cage. Do you have two or four tiny parrots, like
the budgie, parrotlet, or lovebird? Do these birds get playtime outside their cages daily? The Hala Hotel is split into four compartments of with 1/2 inch bar spacing, and is 19 inches wide by 19 inches deep by 17 inches high inside – but the sections can combine horizontally for two larger cages instead. Four cages in one makes a multi-parrot household more manageable than ever. The cage features 2 swing-out feeder doors per compartment, slide-out grate and tray per compartment, and comes with two dividers which you can use if you wish. The entire unit is easily moved on easy-rolling casters and has a storage shelf below for birdie essentials.
For our feathered friends that do well in 5/8 inch bar spacing, we have two options: the Waimea Wingplex Double Decker cage or the Hawaiian Hotel II Three Tier cage. Let's take a closer look at both options.
The Waimea Wingplex is a fantastic option for families with two parrots who'd enjoy a bird cage sized 30 inches wide by 24 inches deep by 26 inches high inside each. Each compartment has two swing-out feeder doors, and its own slide-out tray and grate. Perhaps the best part about this bird cage is the included play top! Two arched ladders, a perch, and two feeder cups create a hangout space for your two birds, right on top of their cage – talk about a space saver!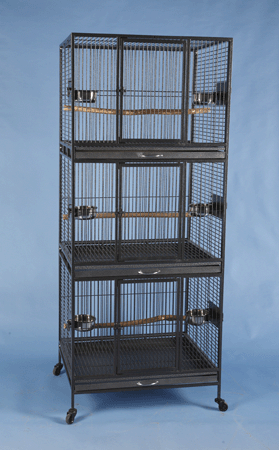 The Hawaiian Hotel II is great for families with three parrots who'd do well in a cage size of 30 inches wide by 24 inches deep by 20 inches high inside each. This cage may not be the best option for a long-tailed parrot due to the height – but any medium-sized, short-tailed parrot would love it! Each compartment has two feeder doors and its own slide-out grate and tray.
For three birds that would do well in 3/4 inch bar spacing, take a peek
at the Hawaiian Hotel I Three Tier cage. This bird cage has one great advantage over many other cages: the feeder doors for each compartment are on the front of the cage for easy access, rather than the sides! At a size of 36 inches by 24 inches by 21 inches high each, this cage is a great option for any African Grey, Amazon, or small cockatoo in your family! Two feeder doors, a breeder box door, and a slide-out grate and tray will make it easy to care for each parrot.
And, lastly, we can talk about a space saving bird cage for the macaws in our families! With 1 inch bar spacing, the Piilani Plantation Double cage is the perfect fit for your macaws, cockatoos, and even smaller parrots such as the African Grey or Eclectus! This bird cage has two side-by-side compartments measuring 32 inches wide by 32 inches deep by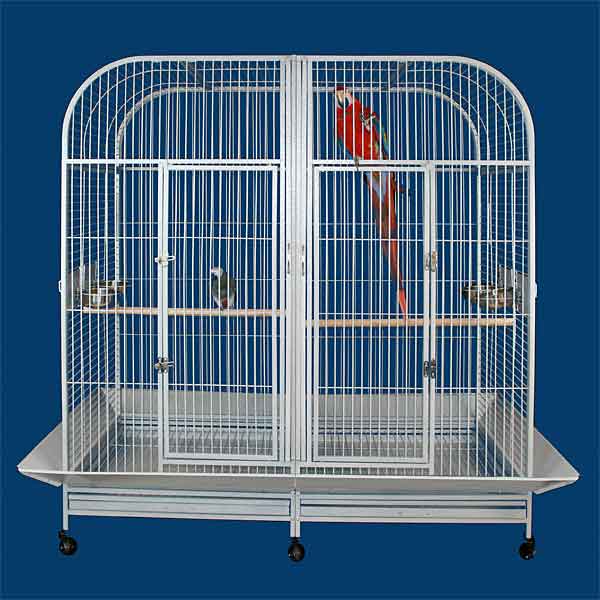 61 inches high inside. Or, if you'd rather, this bird cage can become one giant unit simply by removing the center divider – perfect for your extra-active macaw! There are two feeder doors on each side of the cage, as well as a slide-out grate and tray for easy clean-up. Moving this massive bird cage won't be a hassle – it glides on easy-rolling casters.
You have two divider options with the Piilani Plantation, and you should choose based on the birds you'll be housing. The single divider is a good choice if the birds being housed are very friendly with each other, and unlikely to try to reach through the shared bars to bite toes or pull feathers. This option is also best if you plan on removing the divider permanently and using the cage for a single bird. The double divider option is the best choice if you have two birds who are not friendly with each other, two birds of different sizes, or if you are not quite sure how the birds will react to sharing cage bars. It is always better to be safe than sorry, so if you have any doubts – play it safe! – go for the double divider.
We're quickly nearing the end of the month, and the end of the March Cage Series. We hope you've enjoyed the content so far – but keep checking in! We have a few more things planned for you. You can see all of our space saving cages on their tab at our full site.
547 total views, 1 views today
The March Cage Series: the Space-Saving Cage