Are your birds ready to welcome a new season with a brand new living arrangement? Let's all MARCH into springtime and talk about cages! Shopping for a new bird cage doesn't have to be a nightmare. In fact, it can be fun with the right retailer. Bird Cages 4 Less invites you to grab your morning mug, and cozy up with your companion parrot to read our March Cage Series. Throughout the month of March, join us to explore the many options we have to offer for your special feathered friend.
Now that we've all seen the dual-functioning playtop bird cages, let's look at a more classic style: the dome or decorative topped bird cage. While the sloped roof of the cage doesn't lend to a play area, it does have a certain aesthetic appeal and provides variable height for perches and toys. This can be a particularly advantageous point for our small and medium sized feathered friends who like to roost in a high and cozy spot, such as this perch with a few standing points.
Previously in the March Cage Series, we discussed the absolute necessity that is proper bar spacing. We recommend 1/2 inch bar spacing for our smallest parrots, and non-parrot pet birds, such as:
"Parrotlets, lovebirds, American and English budgies, cockatiels, Indian and African ringneck parakeets, Green cheek conures, in all their many colors, and their similar-in-size cousins such as the Maroon belly, Black capped, Fire shouldered, and Pearly conures. Finches, and canaries…" 
While this can also be used for medium sized birds, we prefer 5/8 inch spacing for parrots including:
"large conures, caiques, lories, Poicephalus parrots, pionus, Quaker or Monk parrots, Alexandrine parakeets, and Mini macaws. Large conures include the Nanday, Sun, Jenday, and any hybrid. Poicephalus parrots includes the Senegal, Meyer's, Red-bellied, Brown-headed, Cape, Ruppel's, and any hybrid. And, lastly, mini macaws include the Hahn's, Severe, Nobel, Yellow-collared, and Illiger's." (quoted from earlier in the March Cage Series)
And, as always, you want to keep the dimensions of the bird cage in mind, especially for our long-tailed friends. To keep their plumage in impeccable shape, don't skimp on cage size! A home which is too small will force them to rub their tails along the bars or bottom of the cage as they turn, climb, and go about their daily routines. With this in mind, let's look at two wonderful options for our smallest birds first. Whether you're looking for simple or lavish, Bird Cages 4 Less has the perfect bird cage for your family's tiniest member.
For a simple, easy-to-clean cage option for your single parrotlet or lovebird, you may consider the Kama Krib cage with optional stand. At a size of 17 inches wide by 12 inches deep by 17 inches high inside, this cage will easily accommodate a short-tailed bird who loves to spend time out with his family! The carrying handle on top and lightweight design also allows this cage to function as a travel carrier – no need to have both. Your parrotlet will be able to comfortably spread his wings and have his favorite toy inside. This cage has two slide-up feeder doors, as well as one slide-up main access door. And, because the safety of your friend is of utmost importance to us, this cage has appropriate 1/2 inch bar spacing.
However, you may have a medium sized parrot, or multi-parrot family sharing a single cage. While the Kama Krib may not be the best option for your pair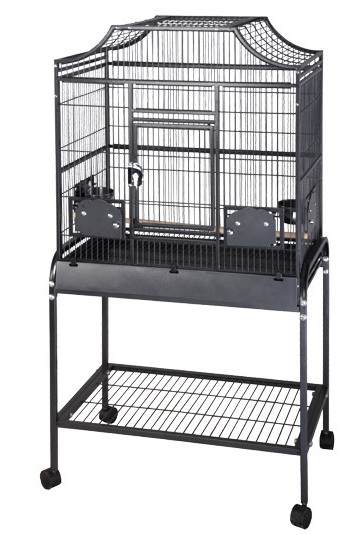 or trio – we have another amazing option for you! The Anahola Abode Flight cage makes keeping friends together easy with two large size options: the 28 model is 28 inches wide by 18 inches deep by 25 inches high inside, and the 32 model is 32 inches wide by 21 inches deep by 31 inches high inside. Both models feature a gorgeous sloping top, 1/2 inch bar spacing, four swing-out feeder doors, bird-proof locks, an included but optional stand, and a convenient storage shelf underneath – and it all rolls beautifully on easy-rolling casters. The 28 model is the perfect option for a single Green Cheek conure, cockatiel, Ringneck parakeet, or a group of American or English budgies. The 32 model has a little extra space to accommodate a pair of Green Cheeks, cockatiels, or Ringnecks! A small flock of budgies would love the area to stretch their wings, as well as play with toys. This is a cage that your feathered family members will relish, and you will enjoy showing off.
Are you the kind of person who likes to have matching bird cages, but have birds of varying sizes? I don't want to blow you away completely – but, what if I told you there was a single cage model that had the option of 1/2 inch or 5/8 inch bar spacing?  Take a look at the Hana Hut cage! Regardless of which bar spacing you choose, the Hana Hut is a square 20 inches wide by 20 inches deep by 30 inches high inside. It has two swing-out feeder doors, a full-length main door, bird-proof locks, an included but optional stand, and a storage shelf – plus easy-rolling casters. This bird cage features a classic dome styled top and decorative scrolling designs that makes it without being too outlandish. Create the perfect sleeping spot by hanging an Orbiter toy from the center of the dome top, or hang a bridge toy from side to side for both play and exercise!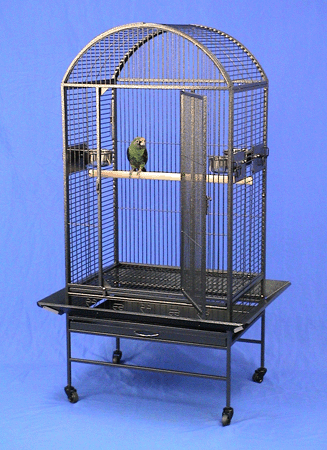 Now, for a large, beautiful cage that is sure to last your bird for his lifetime, you'll want to see the Lihue Landing cage. With an elegant dome top, this bird cage will accommodate any long- or short-tailed parrot in your family with 5/8 inch bar spacing, and dimensions of 28 inches wide by 20 inches deep by 41 inches high inside. This bird cage is a modern wrought iron design with a non-toxic, powder coated finish that is made to be durable and attractive. You'll love the convenience of three swing-out feeder doors, removable seed catchers, a full-length door, and easy-rolling casters. Your bird will love that he has room for all his favorite toys and perches, as well as space to stretch his wings and tail feathers! Available in an array of colors to compliment your conures; the Lihue Landing is a great option for any medium sized parrot!
Whether you love the dome top cage so you can create a cozy sleepy spot for your feathered friend, or that the shape fits in with your decor, we have many options to choose from that are both beautiful and SAFE at Bird Cages 4 Less. You can check out all of our great options on the Small bird cage tab on our full site! Check back in with us all month long for plenty more bird cage options for every sized bird in your family!
1,561 total views, 1 views today
The March Cage Series: Small and Medium Parrot Dome Top Cages