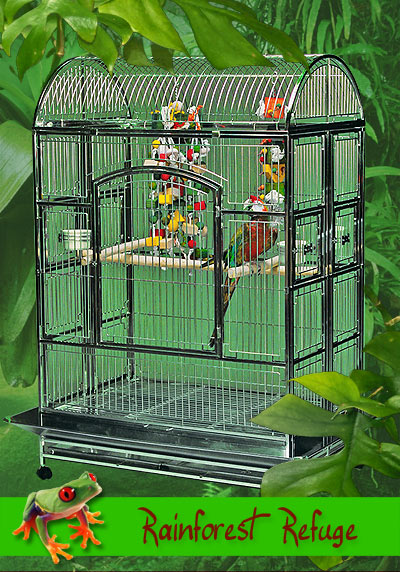 Are you tired of taking a lot of time to clean your bird's cage? Does your bird chew through the coated paint in the cage? If you're looking for an easy-to-clean, strong and durable bird cage, stainless steel bird cages aren't just another choice – they're the best choice!
Stainless is stain and rust resistant. No paint to peel. Stainless steel cages are easy to clean, disinfects quickly, and are exceptionally durable. Our bird cages are made of surgical-grade stainless steel, which means they are nonporous and resist the formation of bacteria.
Unlike powder-coated cages, stainless steel bird cages have no coating for your bird to pick at and possibly ingest. Stainless steel bird cages resist corrosion so you can easily clean and sterilize the cage without fear of rust. Keeping your Stainless Cage Beautiful for life is easy.
Check out our beautiful line of stainless steel cages from Rainforest collection (click on the cage to view specifics):
486 total views, 2 views today