When you were looking for a feathered best friend, what were you looking for? If you're the proud parront of a Black-headed or White-bellied Caique, you're likely a very outgoing kind of person – and were looking for a bird to match you! Caiques are uniquely playful birds with a big bite, and an even bigger personality. While they aren't too big or small, and have a patchwork of colors all over their bodies, their playful ruby eyes and hippity-hoppity walk will draw attention from nearly any kind of bird lover.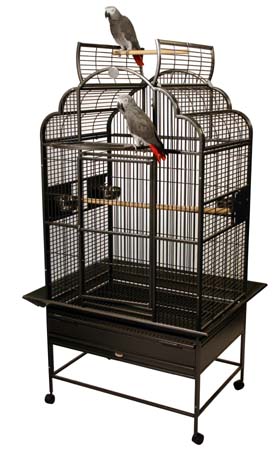 To go along with their devilish charm and good-looks, Caiques also have complex needs which include a large space to burn off their energy, and a healthy diet. While that may sound like a common concern for all parrots, you haven't seen a depressed bird until you've seen a Caique in a small, toy-less cage and just a bowl of boring seeds. Thankfully, you've landed here – a post especially about a beautifully large cage for Crazy Cakes (and another other less-kooky parrot that enjoys 5/8 inch bar spacing!)
The Koloa Kavern Convertible Top Bird Cage has a grand appearance, and even grander size – 32 inches wide by 23 inches deep by 46 inches high inside! House guests will never be confused as to who is the King of the Castle. Since Caiques, and most parrots, are always in the mood to play outside their cage, the Koloa Kavern Convertible Top Bird Cage has an open-top design which functions as a fold-away playtop, and a flip-down patio on the front of the cage. The patio is a great addition for Caiques who LOVE to play with foot toys!
While the Koloa Kavern Convertible Top Bird Cage keeps outside-of-the-cage play in mind, we also know that it isn't always time to come out – and sometimes, you just need to change their food and water and run out the door to work! This will never be a problem as there are three swing-out feeder bowls for food, water, and your bird's favorite treats. There's a slide-out grate and tray to make cleaning quick and easy, and you won't have to do it with your Caique standing on top of your head (unless you want to, of course).
Because your Caique has a taste for adventure, the Koloa Kavern Convertible Top Bird Cage has easy-rolling casters that will enable you to cart their cage around from window to window, for maximum enjoyment of the outside world, without them having to miss snack time. What are some of your Caique's favorite activities? We love to hear from you, both in our comments section below and on our Facebook page. Make sure to "Like" us, and share your favorite pictures of all of your parrots enjoying their cages by Bird Cages 4 Less!
2,335 total views, 8 views today
For a Crazy Caique Cage that Can't be Beat – Try the Koloa Kavern Convertible Top Bird Cage!