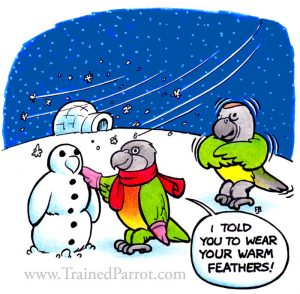 As a conscientious bird owner, you've taken great care to ensure a temperature-stable environment for your bird by placing her cage in a room absent of the effects of air conditioning and cold drafts. Still, your caged bird may "fluff-up" her feathers occasionally to tell you she's cold or stressed. If you've ruled out illness and just want to provide your bird some additional warmth, the following remedies should do the trick.
Bird owners wonder how to safely heat the home with pet birds in the vicinity. Others want to know how to keep their tropical pets warm without heating the entire house to 80 degrees in the dead of winter. There are solutions to both problems.
Farmers first used heat lamps in the poultry industry to keep chicks warm. Eventually, exotic bird breeders began using lamps to provide emergency heat for their birds and to keep brooders warm for baby birds.
Using heat lamps, space heaters, and/or covers will help keep your birds healthy, happy, and warm. Check out the Cozzzy Bird Cage Covers.
What our customers are saying about our bird cage covers:
We ordered and received our new bird cage cover last month. I just wanted to take a moment to let you know how pleased we are with your product. It not only met but exceeded our expectations. The quality is top-notch. I love the ease of using it. It is also very easy to take care of. Just throw it in washer & dryer and it comes out just like brand new. Spanky, our green Amazon parrot, loves it too. He is sleeping a lot better. So, again thank you for offering a top quality product. I will not hesitate to recommend your website. We hope to do business with you in the future.
Thank you.
Patty
798 total views, 2 views today