When shopping for a bird cage for your small or medium sized parrot, there are thousands of options to choose from; it can be overwhelming! Some are going to be too small, others may be too large for your house, but you know that your parrot deserves to have a comfortable living space – without sacrificing your entire living room. We understand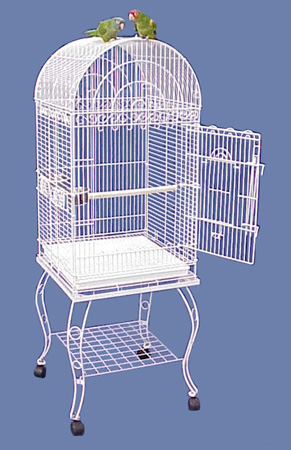 that! At BirdCages4Less.com, we struck the perfect balance between a parrot palace and an elegant living room decor piece: the Hana Hut Dometop small bird cage.
Available in white or black in 1/2″ inch bar spacing, and white, black, or silver vein in 5/8″ bar spacing, we have a beautiful cage to suit your smallest finch to your chubbiest Senegal. But don't be mistaken – this cage isn't just all about looks. It is incredibly functional with a durable powder coating, 2 swing-out feeder doors, removable grate and tray for easy cleaning, easy-rolling casters, and a large front-access door! The cage and stand are included in your purchase, however you do not have to assemble the stand if you want to put the cage directly on a table. Did I mention that this cage measures a whopping 20″ x 20″ x 59″H? Your bird is going to LOVE this cage.
Check out the Hana Hut Dometop cage today on our full website. Along with your cage order, you can also choose a custom Cozzzy Bird cage cover, and packages of toys, perches, or food!
2,803 total views, 1 views today
Our Most Popular Bird Cage: the Hana Hut Dometop