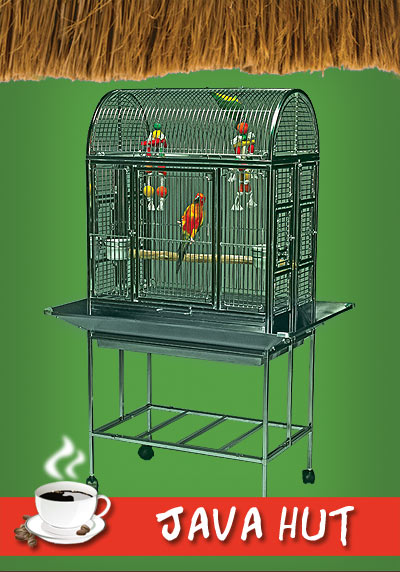 Are you the proud owner of a smaller parrot who loves to make a big mess? Most small parrots have no idea that they're supposed to be "small" or "more manageable", and their gregarious personalities are sure to keep you entertained. Even though we call them small, all birds – especially parrots – need a spacious bird cage in which to spread their wings and exercise their active minds. Especially important for parronts who work outside the home and live busy lives, Bird Cages 4 Less offers a line of easy-to-clean and breeze-to-maintain cages to ensure you're spending more time playing with your parrot, and less time scrubbing.
Unlike dogs or cats, birds of all kinds tend to bathe inside their cages in their water dishes. While getting themselves all squeaky clean, they're also splashing water onto every inch of their cage! Typically, this isn't a problem, until the water sits for a long period of time over years and years of explosive bathing sessions – then, you get rust. After a cage rusts, it's no longer considered non-toxic or safe to keep your parrot in, and should be replaced immediately. Over the years, how many cages will you have to buy – or how many years will your parrot spend in an unsafe cage? Thankfully, there's a simple solution to your bird's natural antics – a stainless steel bird cage from Bird Cages 4 Less!
Stainless steel is a long-lasting cage option that costs a little extra upfront, but is nearly guaranteed to last the lifetime of your bird. Since it is resistant to rust, simple, no-brainer maintenance will ensure your bird cage remains non-toxic, clean, and shiny! For small parrots, the Java Hut Haven Stainless Steel bird cage is the perfect choice because it is 27 inches wide by 18 inches deep by 56.6 inches high, and is made of 304 medical grade stainless steel, which wipes clean quickly and is easy to sanitize! This grade of stainless steel has a high resistance to rust, and is only likely to rust in highly saline environments. For this reason, a stainless steel bird cage is not the optimal choice for outside use near salt water oceans or other bodies of water, nor should it be cleaned with any kind of salt water solution.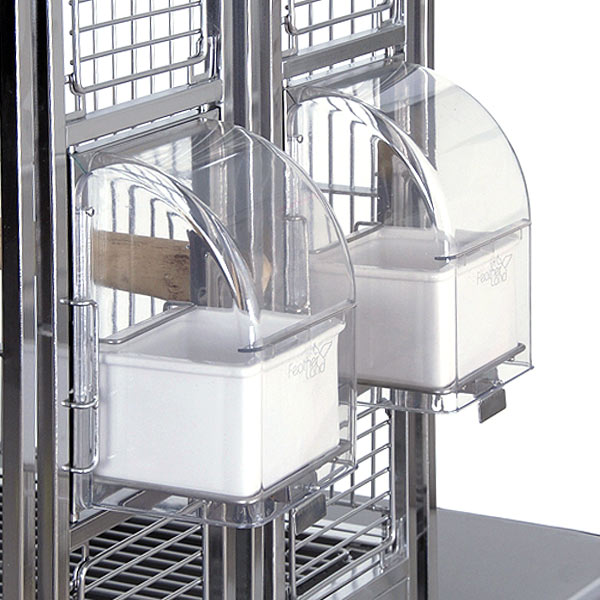 Bird Cages 4 Less recommends the Java Hut Haven Stainless Steel bird cage for birds and parrots that do well in 1/2 inch bar spacing, however, there are several 5/8 inch gaps where the cage panels come together. Aside from lasting a lifetime and being simple to clean and sanitize, the Java Hut Haven Stainless Steel bird cage also features a spacious dometop for active play sessions, no hardware construction for easy set-up or knock-down, easy-rolling casters, a storage shelf, two natural wood perches, included toy hooks, and a bird-proof latch to make sure your bird is safely secured while you're out of the house! To maximize space inside the cage, we recommend purchasing the optional external feeder system, which prevents your bird from spilling and soiling their food, and splashing their water all over their cage!
So, what kinds of parrots are Java Hut Haven Stainless Steel bird cages good for? That's easy! Check out our list in our Beginner's Guide for what birds enjoy which bar spacings.
Do we have you convinced that the Java Hut Haven Stainless Steel bird cage is right for your small parrot? Let us know in the comments below, or on our Facebook page! We'd love to see pictures of your parrot enjoying their beautiful stainless steel bird cage from Bird Cages 4 Less.
3,193 total views, 1 views today
Java Hut Haven Stainless Steel Bird Cage – Great for Small Parrots!