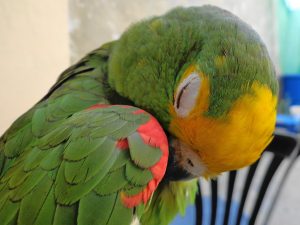 Do birds have feelings and emotions? I'm sure you know your bird's personality and can see that they truly do have emotions. There is no scientific agreement about whether or not birds have feelings, but birders who watch their feathered friends often see evidence of bird emotions in their different personalities and behaviors.
Birds do not communicate their emotions directly and through behavior clues can be ambiguous, those behaviors can readily communicate a wide range of emotions to observant birders.
Building bonds with your bird will help you understand your bird's unique moods and emotions, from stress and loneliness to joy and excitement. That familiarity leaves no doubt that pet birds can and do feel emotions.
Without as much intimate interaction with wild birds, however, it can be difficult to see the same emotional depth in backyard birds. It is not impossible to see the emotions of wild birds, but it takes careful observation and patience to see the subtle clues of birds' feelings.
Here are some tips on how to keep your bird happy!
Make sure your bird gets plenty of exercise
Offer varied foods in their diet.
Socialize with your bird each day.
Teach your bird some tricks.
Choose appropriate cages and toys for your birds.
What questions do you have about choosing toys and/or cages for your bird? Check our site for a variety of cage and toy options. https://birdcages4less.com
301 total views, 3 views today