Jardine parrots are known for their strikingly vibrant feathers and equally colorful personality. There are three types of Jardines but they all share the same gentle temperament and general size. Jardines are classed as a medium sized parrot, however definitely are on the smaller side of medium as the largest is 11 inches tall and weighs in at 3⁄4 of a pound. Jardines make a good choice for people living in smaller areas such as apartments because these birds are generally quieter than other parrots their size.
Jardine's are not yet commonly kept as pets, but only because there are relatively few breeders. Most people who are fortunate enough to have them, rate them highly. One owner described them as: "The Amazons of Africa without the screaming and aggression."
However, like all Poicephalus, Jardine's can go through a nippy stage which is in total contrast to their adorable compliance as very young birds.  This can be a difficult period to get through but with kindness and patience on the part of everyone in contact with the bird, it will pass.
Jardines are very active birds and need a bird cage where they have room to climb and enjoy their toys. Bird Cages 4 Less has a large selection of bird cages for you to choose for your Jardine that will meet his needs and also look decorative and stylish in your home. Jardines require a diet rich in vegetables, grains and fruits. Selecting a bird cage that will be accessible for easy cleaning should also be a consideration to you in your decision.
At Bird Cages 4 Less, we feature quality Jardine bird cages on sale ranging from $99.95 to $499.95 The difference in the prices are based on the features and benefits of each bird cage to your bird. Built in playstands and convertible tops will add to the fun your bird will have especially if you have limited space in your home for a separate parrot playstand.
Check out our cages for your Jardine parrot- https://birdcages4less.com/page/B/CTGY/Jardine-Bird-Cages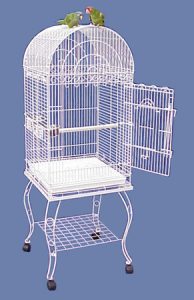 Honolulu Hideaway Corner Bird Cage with Playtop
411 total views, 1 views today
Cages for your Jardine Parrot