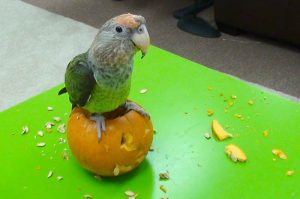 Are you having a pumpkin latte? What about eating pumpkin muffins? Yes, it's that time of year when everything tastes and smells like pumpkins!
Your bird wants to be on this bandwagon too. Here are some recipes that incorporate fall foods. Do you have any recipes to share?
"I Yam What I Yam"
(six servings)
Yams are an excellent source of vitamin A. The corn is a good addition because most birds will eat corn, and the yam mixture sticks to it, so they get to learn how to like yams if they're wary of new foods. The yogurt gives them not only calcium, but acidophilus and bifidus, both excellent fighters of yeast infections! This is a great recipe for birds that are feeding their young. It's easy to digest and regurgitate for babies.
2 Medium/Large Yams
1/4 c Raisins (unsulphured)
1 tsp. Butter (optional-but does have things a bird needs!)
½ tsp. Pumpkin spice
½ c Corn
1/4 c Nonfat Yogurt (preferably organic)
Cut yams into quarters then boil until soft. Drop in raisins for the last 5 minutes of boiling. Cool. Peel off skins. Put peeled yams back in pot and mash, adding butter and pumpkin spice. Add back raisins and corn and mix into the yams. Serve in glass bowls for maximum visual stimulation ;->. Put a dollop of nonfat yogurt on top of each serving.
Warning: Do not leave this food in the cage for more than 2-3 hours, especially on a hot day.
Toasted Pumpkin Seeds
Although many people like to reserve this treat for autumn, Toasted Pumpkin Seeds are a fun and healthy recipe that you can make for your bird any time of the year.
Easy to prepare and surprisingly nutritious, pumpkin seeds are a parrot favorite that you can often find in commercial seed mixes for larger species.
Making your own fresh toasted pumpkin seeds at home can ensure that your bird doesn't miss out on nutrients that get lost when seeds are stored for periods of time the way that they are in commercial production settings. Plus, toasting them yourself can be a load of fun!
Peanut Butter and Pumpkin Dog Treats
Ingredients
1 cup whole wheat flour

1/2 

cup peanut butter*

1/4 

cup pumpkin

1/4 

cup vegetable, chicken or beef stock

1 

teaspoon cinnamon
Instructions
Preheat oven to 350° F.
Combine flour, peanut butter, pumpkin and cinnamon in a large mixing bowl. Add stock and stir until well-combined. The dough will be thick. Once combined, use your hands to press the dough into a ball. Place dough ball on a flat service (with a sprinkle of flour if needed) and roll out evenly with a rolling pin. Dough should be about ¼ inch thick. Use a cookie cutter to cut the dough into desired shape and place on ungreased baking sheet.
Bake for 18+ minutes or until golden brown and hard to the touch. The baking time will vary based on the the size of the treats. Store in an airtight container.
by Brittany Mullins
365 total views, 1 views today